Tips on Tablets and Apps for the Early Childhood Classroom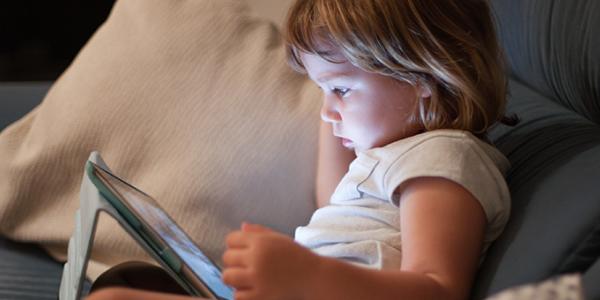 You are here
By: Warren Buckleitner, Editor of Children's Technology Review
Like any classroom material, make sure you know it well before making it available to the children.  
What's the best brand of tablet for an Early Childhood Education setting?
You can answer this question by asking how many quality experiences the tablet and its associated app store, can deliver for young children.  Apple's iTunes contains the best selection by an easy 10 to 1 margin over the others, including Google Play and the Amazon App Store (evaluated fall 2014). For now, a device that runs Apple's mobile operating system on the iPad and iPad Mini will give you the best chance of finding and successfully running quality ECE digital content.
Do iPads need some sort of protection?
It's a good idea. I prefer the squishy foam cases like the Gripcase (www.gripcase-usa) which can hang from a hook, or Big Grips (a close second). Both cost about $30 each, and come in a variety of colors, in case you want the have different themes for the iPads hanging in your centers (for example, one for art, another for language). I don't recommend plastic screen covers, which interfere with the iPad's natural oleophobic glass; a surface that was especially designed to be child proof, scratch resistant and easy to clean.
What are the different app categories?
The saying "there's an app for that" is especially true when it comes to your Early Childhood Education curriculum. Just type a few keywords into iTunes or Google Play, and use the ratings to narrow down your search, from hundreds on just about any skill or topic, from art to zebras. Here's are some starter apps for any Early Childhood Education iPad:
---
ABOUT CHILDREN'S TECHNOLOGY REVIEW
Children's Technology Review (CTR) is an ongoing rubric-driven survey of commercial children's digital media products. Like Consumer Reports, CTR takes no advertising, and there are no entrance fees, affiliate links or hidden costs to publishers.  Started in 1993 by Warren Buckleitner, the for-profit service is dedicated to helping children aged 0-to 15-years, by making it easier for their teachers, librarians, publishers and parents to stay up-to-date on new digital products through timely, objective information. CTR is sold as a subscription, and is delivered weekly to subscribers, who also receive access to review database. Learn more at http://www.childrenstech.com or search the review database at http://pickyteacher.com.
 
ABOUT WARREN BUCKLEITNER
Warren Buckleitner is a former preschool teacher and current software reviewer. He's the editor of Children's Technology Review, a project that started in 1983 at the High/Scope Foundation.  He holds a MA degree in early childhood education from Pacific Oaks College. He also holds degrees in elementary education and educational psychology.