Global Lessons for Early Childhood Teacher Education
Heather Logan
I have been fortunate to work as a curriculum coach and teacher at an early childhood education center in Roatan, Honduras, for the past six months. As NAEYC is "Going Global," many of the lessons I have learned in Roatan align with the global initiatives.  For example, with the help of NAEYC resources I am providing professional development and I conduct observations of children and teachers.  I have worked with the owner, teachers, and families in the areas of guidance, physical environment, appropriate materials, play, and curriculum. I believe my most significant accomplishment is building reciprocal relationships with the owner and teachers.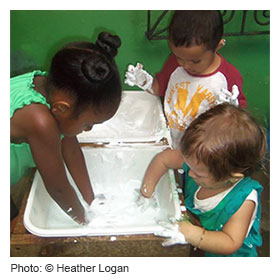 Child care outside the home is a novel idea in Honduras; working parents are beginning to see the value of a childcare center for the children and for their family.  There are no regulations covering early care and education on Roatan, which has about 90,000 residents, and only two early childhood education centers on the island. I have learned a lot about Roatan's culture, and much of what I've learned can be transferred to working with staff and children of early childhood education settings in other countries using the following behaviors:
Communicate—I don't speak Spanish, so communicating with the teachers is a challenge because they don't speak English. Affirming all the teachers and children by using rituals, eye contact, and positive body language is essential. We also communicate in a practical way with photographs.
Observe—Teacher educators can learn from observing teachers and children in their environment. A big life lesson I learned long ago is to never make assumptions; this is certainly true when in a new culture. It's important not to make assumptions about what children know how to do, about the children's expectations, or about the teachers' and families' philosophies.
Ask questions—If there is something I don't understand, I ask questions. There may or may not be a good answer; either way, I have learned from asking the question. It is also important to think about the tone one uses when asking questions, especially if there is a language barrier. Teacher educators cannot allow themselves to sound as if they have all the answers.
Model—I believe we all learn by seeing and doing, rather than by merely hearing. I cannot expect someone to follow a lesson plan when they have no knowledge of developmentally appropriate activities. Many of the activities we use with the children come from something  I make at home.  I show the teachers ways to use the materials and explain how the children benefit from the activities. Modeling interactions and guidance techniques is also essential.
If I had not been intentional about following these four behaviors, I'm convinced we would not be making the progress we are at the center.  Being intentional about using these behaviors has helped me build strong relationships with the teachers, owner, and families. Each time I share information with these individual, I get a positive reception because we are making connections with one another and building trust.
In addition to progressing in relationships, we are improving in other areas well.  We have attained many new toys recently and are making headway in teaching children how to use and respect materials.  Because we are now observing children using a developmental checklist, improvements are being made to lesson planning and curriculum implementation.  However, focusing on relationships again, the most exciting growth is in the area of teacher education.  Each day presents opportunities for teacher education.
Heather Logan
Heather Logan is currently living in Roatan, Honduras with her husband.  She is serving as a Curriculum Coach and Teacher at Paradise Babies Day Care Center on the island.  She has earned a B.S. in Child and Family Studies and a M.A. in Early Childhood Education.  Prior to moving to Roatan, she was a 4-H Extension Agent in Cabarrus County, NC and taught Early Childhood Education at Central Piedmont Community College in Charlotte, NC