Human Connection, Networking, and NAEYC Affiliates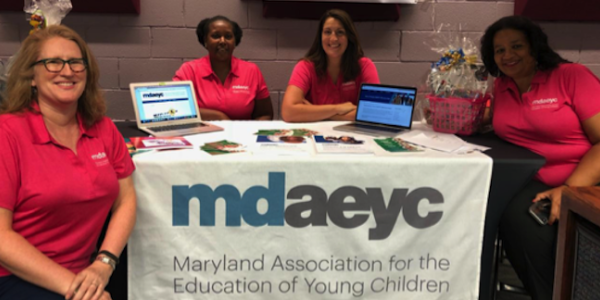 Erin Daga
Early childhood educators well know the importance of human connection for the development and well-being of young children: infants need secure attachments with caregivers who understand their cues in order to grow. Babies learn to vocalize and eventually speak when they are face-to-face with an interactive adult. Children learn critical social skills, such as negotiation, compromise, and expression of feelings, by playing with their peers.
We talk less about the importance of human connection for the health and well-being of educators. Research has shown again and again that relationships are key to adults' physical and emotional health. And yet many educators report feeling isolated and overwhelmed in their work. I think that is why our members consistently report that networking is one of the greatest benefits of NAEYC membership.
One of the easiest ways members can connect with other educators in their own communities is by getting involved in their Affiliates. Affiliates plan conferences, build professional learning communities, engage in advocacy efforts, and host networking events – in other words, they bring educators together to support their professional growth, connect them with people who understand both their passion for teaching and their struggles, and have fun!
Clearly, NAEYC's Affiliates play a critical role in supporting our members. That is why we are thrilled to announce that two new Affiliates joined NAEYC on July 30: Maryland AEYC and Montana AEYC.
Both Affiliates are already hard at work for members in their states. Maryland AEYC hosted a Launch Party on September 15, 2018, at the Lakeshore Learning Store. You can learn more about Maryland AEYC at mdaeyc.org.
"The Launch Party is our opportunity to engage with community members, and celebrate all those who work on behalf of young children and families," says MDAEYC Co-President Christina Lopez. "We hope it will give members an opportunity to learn more about our new strategic plan and how they can be a part of the work we are doing to ensure better opportunities and outcomes for all Maryland's children."  
Montana AEYC will host the 2018 Montana Early Childhood Conference October 18-20 in Fairmont, Montana. The theme of the conference is "Thriving Children, Successful Professionals, and a Healthy Society." Learn more about Montana AEYC and their upcoming events at mtaeyc.org.
"I am very excited about our new affiliation," says Jill Caine, Montana AEYC's treasurer. "A new start, new look, and an opportunity to get new members involved as well as get re-acquainted with old and former members. Montana has some very talented Early Childhood Professionals who are committed to the success of the Early Learning for our great state's young Children."
---
Do you want to get involved in your local Affiliate? Learn more about our Affiliate network and make local connections.
Interested in starting an Affiliate in your community? Find more information on the application process here.
Erin Daga
Erin Daga is Manager, Affiliate Relations at NAEYC.