Resources and Tools to Elevate the Early Childhood Profession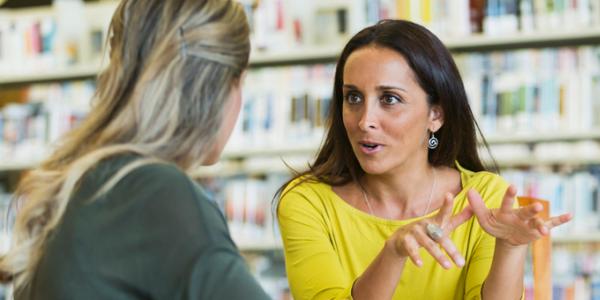 Rhian Evans Allvin
Our time has come! It's up to all of us in the early childhood education field to show the courage and leadership needed to attract and retain the most effective educators and to support best practices in children's learning and development.
A seminal report, "Transforming the Workforce for Children Birth Through Age 8: A Unifying Foundation" from the Institute of Medicine and National Research Center, recognizes the diverse skills and nuances that define the early childhood education profession and the multiple pathways that exist for those entering into and advancing within the field.
The report's recommendations rest on a solid foundation of research, policy, and practice and are closely aligned with with key elements of NAEYC's new Strategic Direction, released in November 2014. They recognize the science of how young children learn, the sophistication that is required to ensure educational excellence, and the systems approach necessary to support young children and early childhood educators on multiple fronts. (See NAEYC's press release on the report.)
NAEYC's members represent the full spectrum of the profession. NAEYC, as the association for all early childhood educators is committed more than ever to providing content and resources rooted in the most up to date science and research. We are working on behalf of our members and the field on a number of projects and initiatives that focus on bolstering the profession and aligning content and resources around the science behind best practices that support how children develop and learn.
We are strengthening state early childhood professional development systems with our PD System Indicators project as we develop a strategic planning tool to benchmark the quality and effectiveness of state early childhood professional development systems, supporting the work ahead in states and communities. The PD System Indicators project builds on NAEYC's Workforce Designs: A Policy Blueprint for State Early Childhood Professional Development Systems, as its framework.
We are enhancing both the public perception of careers in early childhood education and the capacity of higher education programs to grow the field with the Strengthening the Professional Pipeline project: With support from the W. K. Kellogg Foundation, (1) The Quality Improvement and Capacity Building in Higher Education Project focuses on strengthening the quality and capacity of higher education programs and their faculty to meet the demand for professionals with specialized degrees and credentials in early childhood education. (2) The Career Awareness, Investment, and Retention Campaign focuses on enhancing the image of the early childhood profession so it is viewed as a viable career option. This initiative will also serve as a vehicle to promote investments, public and private, for professional development systems, institutions, and individuals.
We are reviewing our content, aligning it with current research, and making it more accessible: NAEYC has a longstanding history as creator and publisher of high quality research based content that promotes best practices in early learning. As NAEYC thinks toward the future we are transforming our content stream. The end goal will be to offer users the robust array of NAEYC content in ways that are easy to use and that make connections between NAEYC's position statements and program standards, emerging trends, research, and needs.
We are exploring the theme, The Early Childhood Profession We All Want: What Will It Take to get Us There? at NAEYC's National Institute for Early Childhood Professional Development taking place June 7–10, in New Orleans. Always a place for new knowledge, this is the year to be there to join in this conversation!
We are co-publishing the upcoming book, Professionalizing Early Childhood Education As a Field of Practice: A Guide to the Next Era, by Stacie Goffin. with Redleaf Press, (for release in June as a comprehensive member benefit). The book will offer our field a roadmap for initiating a conversation from the inside out. Stacie's premise is that we have to own this agenda rather than having a definition created for us.
 We invite you to explore our resources and initiatives, become a member if you're not one already, mentor your students and a colleagues with resources from NAEYC and join us us as we work together to bolster and support our field.
---
Want more on quality early learning? Sign up to get the latest from NAEYC.
Rhian Evans Allvin
Rhian Evans Allvin is the chief executive officer of NAEYC. She is responsible for guiding the strategic direction of the organization as well as overseeing daily operations. Before joining NAEYC, Evans Allvin was a guiding force in Arizona's early childhood movement for more than 15 years, including serving as CEO of Arizona's First Things First.