Learning Stories and Teacher Inquiry Groups: Reimagining Teaching and Assessment in Early Childhood Education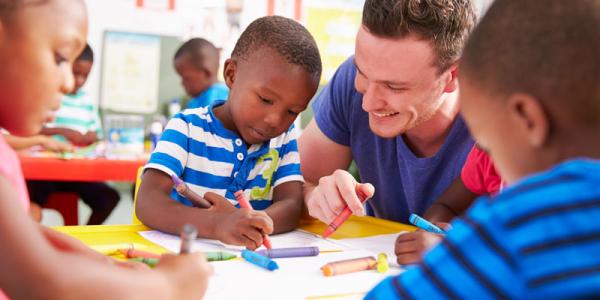 Isauro M. Escamilla Linda R. Kroll Daniel Meier Annie White
About the Book

Enhance your professional development and partner with children and families to improve learning experiences in a range of early childhood settings and programs. Learn how to integrate the Learning Stories approach and teacher inquiry groups to promote authentic assessment to inform instruction, and foster collegial team building and collaboration. The writing of Learning Stories integrated within the professional development process of teacher inquiry, documentation, and reflection offers a new model of professional support and a method for reaching out to children and families.
The Learning Stories approach is used primarily with children from birth through age 8, and educators in classrooms and programs, administrators, professional development specialists, instructional coaches, and teacher educators can benefit from this approach. 
Within this book, you'll find
Extensive examples linking Learning Stories and teacher inquiry groups 

Key ideas, strategies, and reflection questions

Information on how Learning Stories can supplement assessment tools such as QRIS, DRDP, and CLASS

Resources and approaches for starting your own inquiry group
Acknowledgments
Chapter 1: The Power of Teacher Inquiry Groups: Linking Inquiry, Documentation, and Reflection
Chapter 2: Learning Stories as an Approach and Framework for Authentic Assessment and Critical Pedagogy
Chapter 3: Identifying and Creating Learning Stories
Chapter 5: Integrating Inquiry and Learning Stories for Equitable Learning Opportunities
Chapter 6: Family Engagement and Learning Stories: Inclusion of Diverse Voices 
Appendix A: Learning Stories Can Supplement Various Assessment Tools 
Appendix B: Resources and Approaches for Starting Your Own Inquiry Group
About the Authors
Index
Use this handy study guide in a college or university course, your professional learning community, or your own book club with colleagues.
Product Code: 1154
ISBN: 978-1-938113-91-8
Publish Date: 2021
Citation (in Chicago 17th ed. style): 
Escamilla, I.M., L.R. Kroll, D.R. Meier, & A. White. 2021. Learning Stories and Teacher Inquiry Groups: Reimagining Teaching and Assessment in Early Childhood Education. Washington, DC: NAEYC.
Articles

"Discovering the Brilliance and Beauty in Black" -  Patricia Sullivan's article offers a deeper understanding of color and race through narrative inquiry, highlighting the value of stories to frame our lives, provide lenses and metaphors for understanding larger concepts, and serve as tools for sharing with the broader public sophisticated analysis and knowledge creation. (Voices of Practicioners, September 2020)
"Teacher Inquiry on the Influence of Materials on Children's Learning" -  In this article, Rachel Schaefer discusses her use of inquiry methods common to classroom teaching, including conversations with other teachers, observations of children interacting with materials, and opportunities for written and verbal reflection. (Voices of Practicioners, November 2016) 
"Learning Stories" -  Judi Pack outlines basic information about and benefits of the Learnign Stories approach. (Teaching Young Children, December/January 2016) 
Isauro M. Escamilla
Isauro M. Escamilla, MA, is an early childhood educator at the San Francisco Unified School District and a lecturer at San Francisco State University. imescamilla@gmail.com
Linda R. Kroll
Linda R. Kroll, PhD, is professor emerita of education at the School of Education at Mills College, Oakland, CA.
Daniel Meier
Daniel Meier is professor of elementary education at San Francisco State University. He is the coauthor of numerous books and articles on language and literacy education, narrative inquiry, and international education. dmeier@sfsu.edu
Annie White
Annie White, EdD, is assistant professor in the Early Childhood Studies program at California State University Channel Islands.
Reviews
This valuable and constructive book provides an approach to professional development and assessment in education that will both excite and inform. Teacher inquiry is closely linked to Learning Stories, providing vivid opportunities for teachers to deepen their understanding of learning.
—Margaret Carr, Emeritus Professor, University of Waikato, and Wendy Lee, Director, Educational Leadership Project, Aotearoa, New Zealand
What a wonderful book! Learning Stories provide an innovative avenue for reclaiming the voices of teachers, children, and families. The power of Learning Stories is that they create a sensitive dialogue that enhances and sustains teachers' relationships with all who care about the education of young children. This book will be a great addition to the NAEYC family of fine publications.
—Andrew Stremmel, Professor of Early Childhood Education, South Dakota University
As I was reading through the Learning Stories provided in the book, I must admit that I became emotional at times, which I never thought would happen when reading a textbook. One of my favorite Learning Stories in this book was "Where Love Grows," written for a parent. In this story, the teacher, among other things, affectionally reflects on a statement made by a single mother describing her tough journey: "I am all we have" (p. 86).
On the whole, this book is an excellent resource for teachers who want to deepen their understanding of children and their families, and strengthen the relationships between the teacher, child, and the family with a continuing self-evaluation and reflection through stories. The authors, throughout the book, present engaging ideas and insightful questions to enhance the teaching practice, children's development, and learning while engaging the family in the process. A great strength of the book is that is it offers a genuine and precious practice, in accordance with NAEYC's philosophy, to connect with the children and their families. Some of the Learning Stories provided in the book will warm the hearts of the parties involved (the teacher, child, and family). It is hard to imagine a better way of involving parents in the education of their children than through these Learning Stories that speak not only to minds but also to hearts.
—Excerpt from Teachers College Record review by Burhanettin Keskin
Buy the Print Book
Buy the E-book