Spotlight on Young Children: Social and Emotional Development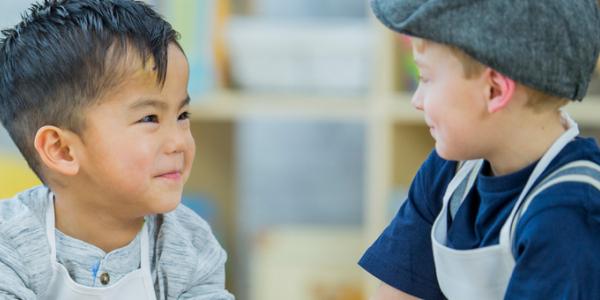 Rossella Procopio Holly Bohart
About the Book

Children's experiences and relationships during their formative years have a far-reaching impact, and early childhood professionals play a critical role in fostering the social and emotional competence children need to process and learn from these interactions. Explore how teachers can use the opportunities embedded in their classroom practices, routines, and lessons to nurture healthy behaviors in children from birth through third grade. A wide range of timely issues is covered in this collection of articles, including how to
Prevent and address aggression and bullying behaviors
Guide children to recognize and understand diverse cultural practices
Encourage children to form and sustain meaningful social interactions
Support children who have experienced trauma
Using the guidance in this resource, help children develop the social and emotional skills essential to their future well-being and success.
Product Code: 2850
ISBN: 978-1-938113-31-4
Publish Date: 2017
Citation (in Chicago 17th ed. style): 
Procopio, R., & H. Bohart, eds. 2017. Spotlight on Young Children: Social and Emotional Development. Washington, DC: NAEYC.
Rossella Procopio
Rossella Procopio is editor of Books and Related Resources at NAEYC.
Holly Bohart
Holly Bohart is senior editor in Books and Related Resources at NAEYC. She formerly taught in special education early childhood programs.
Reviews
With this insightful introduction to social and emotional development, educators can easily reflect on their practice and gain concrete guidance to help nurture resilient, responsible, and confident children. This is a must-read for all teachers of young children!
—Angelica Rosen, Implementation Specialist, Aperture Education
 
As this important topic continues to rise to the top of research and policy, the theoretical and practical information in this book offers a timely perspective and serves as a valuable resource for professionals at all levels of experience.
—Stephanie Haney, Director, University of Southern Mississippi Center for Child Development
 
Strong social and emotional skills are closely tied to future success. This collection discusses specific, proven classroom activities and environmental supports that enhance social and emotional learning of the highest quality.  
—Kari Jo Fore, Director/Administrator, Bethel Highlands Preschool 
 
Buy the Print Book
Buy the E-book
Read an excerpt