Look, Listen, Learn. Where Does the Rain Go? Considering the Teacher's Role in Children's Discoveries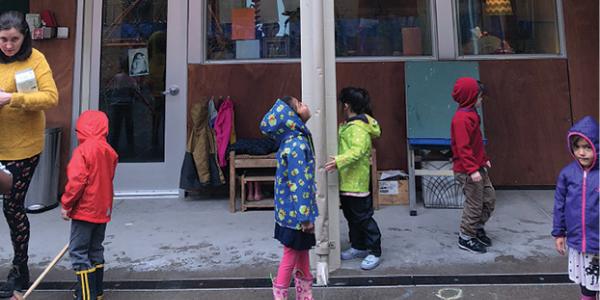 You are here
Brian Silveria Deb Curtis
Read the following story and teacher reflections, and use the Reflective Questions at the bottom of this article to deepen your thinking and shape your teaching practices.
One rainy day on the playground, teacher Brian noticed Tahlia tapping a downspout on the side of the school. Tahlia put her ear to the pipe and smiled, stating, "Water is going down the pipe!" Several children came over and listened to the downspout pipe with her. One child stepped back and pointed to the top of the building, declaring, "Hey, it goes all the way up there!" Tahlia turned to Brian and said, "I wonder what it's for?"
Before Brian could respond, Tahlia's attention was drawn to the drainage grate under her feet. She knelt, squinted into the grate, and exclaimed, "There's water down there!" The children figured out the water's path from the roof to the downspout to the drain, and Tahlia said, "The water goes to the ocean."
The children continued observing and thinking about the rainwater and the downspout for much of the morning.
Brian's reflections

This experience reminded me of my childhood, when I also was fascinated by rain and where it went.
When Tahlia wondered aloud what the downspout was for, I wished I could magically transport us to the rooftop so the children could see what was happening. I thought about explaining the facts but decided not to. Tahlia and her friends were engaged in rich independent learning. They didn't seem to need my intervention or explanation.
Each time one child made an observation, the other children leaned in to get a better look and to listen more closely. They noticed that the water moved in one direction—toward a drain pipe and down into a dark hole in the pavement. After Tahlia hypothesized that the water went to the ocean, another child added, "It goes to a place where they clean the water first, then it goes to the sea."
The children saw treasures trapped in the drain: a coin, a little yellow toy dinosaur, and a handful of sand. They talked about different ways they could get the objects out.
I am thoughtful about my participation in children's discoveries. In this example, the children applied their own knowledge to a real-life question. I could have offered my adult knowledge about rainspouts. But would that have cut short their thinking and discouraged their sense of wonder? Would I be sending the message that using a teacher's knowledge is a better way to learn than undertaking their own process of discovery?
I am content to support their journey as they study and marvel at the mysteries around them. I will look for ways to help the children explore their questions. I can
Provide some gutters or outdoor ramps next time it rains, to see if the children can figure out how to move rainwater
Suggest they observe water flowing down a slide and try to change its direction using their hands or some sand
Provide clear tubing and funnels at the water table to help them see what happens inside a downspout
Record the sounds the downspout makes when it rains, then play the recording during our morning meeting, challenging the children to identify the sounds and make the same sounds using their voices or classroom items
Use open-ended questions to extend the children's thinking and investigations
Find children's books on this topic to extend their learning
Offering active, meaningful experiences to spark young learners' natural curiosity, encourage investigation, and promote understanding is the teacher role I want to continue to develop in myself.
I know the children will eventually learn about rain and where the water goes. They might learn about it online, on TV, or in school at a later time. But I hope the children and their families will first think about this question together as they watch a rainstorm.
---
Reflective Questions

Use the following questions from the Thinking Lens™ to reflect alone or with a colleague.
 
Know yourself

If you were in Brian's situation, which role would you most likely play?

I would observe closely and consider the children's questions and points of view.
I would offer facts and advice to answer the children's questions.
I probably wouldn't get involved in what the children were doing.

What role do you aspire to play in children's discoveries and learning? Why?
Find examples of children's competence

What skills, competencies, and attitudes of the children did you hear in Brian's descriptions of their investigation?
How would you assess the children's social skills, inquiry skills, and understanding of the rain and water systems? 
Seek children's points of view

What do you think the children found so fascinating about the rain and the downspout?
How do you think the children viewed each other during this investigation?
What discoveries have you seen your own group of children involved in? What do you think interests them about their investigations? 
Consider opportunities and possibilities for next steps

Observe the children in your room when they are investigating and making discoveries. What do you notice about their interests, understandings, and abilities? Try the following steps:

Observe closely and offer questions for children to consider.
Think about props and materials you can offer to further children's investigations.
Consider children's responses to your actions and questions. Are their responses what you hoped they would be?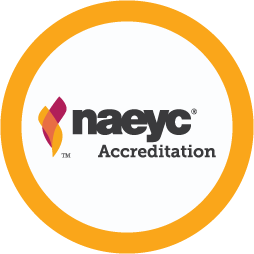 This article supports the following NAEYC Early Learning Program Accreditation standards and topic areas
STANDARDS 3: TEACHING
3E:
 Responding to Children's Interests and Needs;
3G:
 Using Instruction to Deepen Children's Understanding and Build Their Skills and Knowledge

Photograph: Courtesy of Brian Silveria
Brian Silveria
Brian Silveria has been teaching young children for over 30 years. He started his career in Quincy, California, a small mountain community surrounded by pine forests. He now works in an urban setting at Pacific Primary School, in San Francisco, where he is a lead teacher.
Deb Curtis
Deb Curtis has spent the past 40 years working with children and teachers in early childhood programs. She developed the Thinking Lens with Margie Carter and Ann Pelo.