Mensaje en la mochila™ Cómo elegir las mejores actividades STEM para sus hijos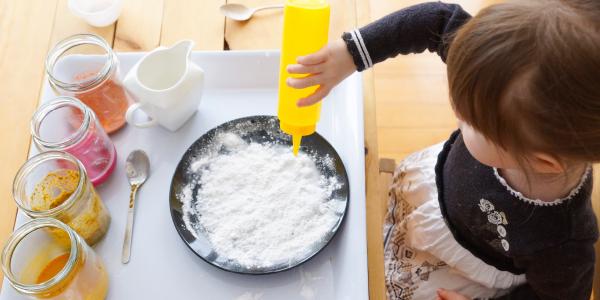 You are here
Rosemary Geiken Sandy Chilton
A los pequeños les encanta explorar el mundo que les rodea, y las actividades STEM son una excelente manera de ayudarlos a hacerlo. STEM en inglés significa ciencia, tecnología, ingeniería y matemáticas. Hay muchas actividades STEM disponibles en línea para que las familias y los niños las realicen en casa, ¡pero algunas son mejores que otras! Con tantas ideas STEM disponibles, ¿cómo encontrar la mejor para su hijo?
Aquí hay algunas preguntas que se puede hacer:
1. ¿Le interesará a mi hijo esta actividad?

¿A su hijo le interesa construir? ¿Recolectar piedras? ¿Mirar las estrellas? ¡Elija actividades que le gusten a su hijo o aquellas que aún no haya experimentado! Cuando respeta los intereses de su hijo y despierta su curiosidad, apoya su aprendizaje basándose en lo que ya sabe y puede hacer.
2. ¿Qué puede HACER mi hijo?

Busque actividades que motiven a su hijo a explorar y descubrir. ¡Seguro que su hijo se entretendrá construyendo, jugando a la pelota, cavando, mezclando, jugar con las sombras o incluso ensuciándose! Cuando su hijo juega activamente con objetos y materiales, está aprendiendo mucho sobre cómo funcionan las cosas a su alrededor.
3. ¿Qué puede DESCUBRIR mi hijo?

Busque actividades que le permitan a su hijo resolver problemas y encontrar sus propias soluciones. Elija actividades que su hijo pueda hacer de diferentes maneras para obtener diferentes resultados. No importa si no entiende con exactitud los conceptos científicos que está observando; lo importante es que explore y descubra utilizando las habilidades necesarias para pensar como un científico. Este tipo de actividades le permite a su hijo experimentar, probar teorías y descubrir qué soluciones funcionan mejor.
4. ¿De qué puede PLATICAR?

Elija actividades que le brinden a usted y a su hijo temas interesantes para conversar. Cuando le pide a su hijo que describa y explique lo que está haciendo, observando y pensando, desarrolla sus habilidades STEM. Pregúntele a su hijo por qué: ¿Por qué piensas eso? ¿Por qué lo hiciste de esa manera? ¡Se sorprenderá con las ideas de su hijo!
5. ¿Sobre qué temas puede DIBUJAR o ESCRIBIR para que después pueda compartir sus descubrimientos?

Escoja actividades que incluyan oportunidades para escribir, dibujar o hacer maquetas o modelos. Podría construir una estructura de bloques en casa o usar limpiapipas para crear una mariposa que vio en el jardín. También puede documentar lo que está haciendo al usar su teléfono inteligente para tomar fotos o videos. Luego, ¡haga que su hijo comparta sus experiencias con otros miembros de la familia!
---
Copyright © 2021 National Association for the Education of Young Children. See permissions and reprints online at NAEYC.org/resources/permissions.
---
La traducción de este documento ha sido elaborado en el marco de un acuerdo cooperativo (PR/Award no. U295A150003, CFDA Nº 84.295A) del Departamento de Educación de Estados Unidos. No obstante, este contenido no representa necesariamente la política del Departamento de Educación, y usted no debe asumir el aval por parte del Gobierno Federal.
Rosemary Geiken
Rosemary Geiken, EdD, retired as an associate professor from East Tennessee State University. She consults with Regents' Center for Early Developmental Education on STEM for young children.
Sandy Chilton
Sandy Chilton, MEd, is a bilingual kindergarten teacher in Austin, Texas. She has spent the past 14 years advocating for young children and leading early childhood educators.