Supporting Literacy Through Engaging Instruction & Materials
You are here
Annie Moses
"I feel happy when I write."
"I like to read books all the time."
"You should at least try to write your name, and if you can't, a teacher can help you."
"Reading helps you."
"Writing is fun because you draw all the letters in your name, and that's why it's fun."
A while back, preschoolers from 10 different early learning programs shared with me their thoughts and feelings about literacy. Overwhelmingly, they had positive views about why people read and write, whether it is easy or hard to read and write, and whether books can help people learn something new. Many of them reported feeling very happy when adults read to them, when they spent time in the library area of their classroom, and when they finished writing something and shared it with others, among other literacy activities.
How and why did so many of these preschoolers form such positive thoughts and feelings about literacy? How can we work to ensure continued engagement and enthusiasm? To help answer these questions, this Young Children cluster offers a variety of practices and materials to help early childhood educators foster a love of literacy and support early reading, writing, listening, and speaking development. Although specific approaches and activities vary, a common theme stands out: using diverse and dynamic texts—diverse in genre, diverse in authorship, and diverse in whose voices and experiences are represented.
In the first cluster article, Listen to What We Hear: Developing Community Responsive Listening Centers, Emily Brown Hoffman and Kristin Cipollone explain how teams of current and future early childhood educators decided to create community relevant listening centers with audio recordings of texts and songs. Yet teams found that the voices and faces behind the available recordings did not reflect the children and families in their child care center. As a result, they invited family and community members to record themselves reading, storytelling, or singing a collection of texts in different languages.
Recognizing the importance of the text itself, Jonda C. McNair and Hayley J. Hoover provide a detailed look at Design Elements in Picture Books: What They Are and Why They Are Important. The authors' own teaching experiences led them to examine dust jackets, endpapers, font, and other design elements more closely. Using multiple examples of racially and culturally diverse picture books in different genres, they showcase how children and teachers can draw meaning from design elements.
Similarly, knowing that texts can be both "windows" and "mirrors" for children's identities and understandings of others, Jungmin Kwon and Wenyang Sun write about the portrayals of Transnational Lives of Asian Immigrant Children in Multicultural Picture Books. Their analysis of seven picture books with characters and events from East Asian immigrant families reveals themes about physical mobility, love and care across distances, and bilingual and bicultural learning.
The next two pieces in the cluster demonstrate that different types of texts have an important place in settings that serve children and families, including in libraries and classrooms. Literacy-to-Go: Delivering Literacy to Young Families Through Library and Community Partnerships, by Maryia LaBree, V. Susan Bennett-Armistead, and Cynthia Crosser, outlines a fruitful initiative to build a literacy community through the creation, training, and use of "Lit Kits" in local libraries. One essential component of these literacy kits is informational texts, which is the focus of an accompanying piece, Tapping into Children's Curiosities: Using Informational Books in Early Childhood, by Kathryn Lake MacKay, Kim Collett Plank, Cindy Sanders, and Cassy Lewis. MacKay and colleagues share more about the power of informational texts within early childhood classrooms. They illuminate how and why this type of text inspires curiosity and helps address children's wonderings about the world around them.
Finally, Katie Schrodt, Erin FitzPatrick, Bonnie A. Barksdale, Brandi Nunnery, and Michelle Medlin Hasty describe Teaching Writing with Mentor Texts in Kindergarten. The authors offer classroom-based examples and specific steps teachers can take to encourage children to learn about and try a variety of techniques, craft moves, and conventions as they write "shoulder-to-shoulder with a mentor."
Rich and sustained literacy experiences in early childhood pave the way for positive thoughts, feelings, and skills in literacy later on. The instructional strategies and materials highlighted in this cluster issue will help children to develop in literacy and in their feelings about literacy and to know that you and others are there to support them.
—Annie Moses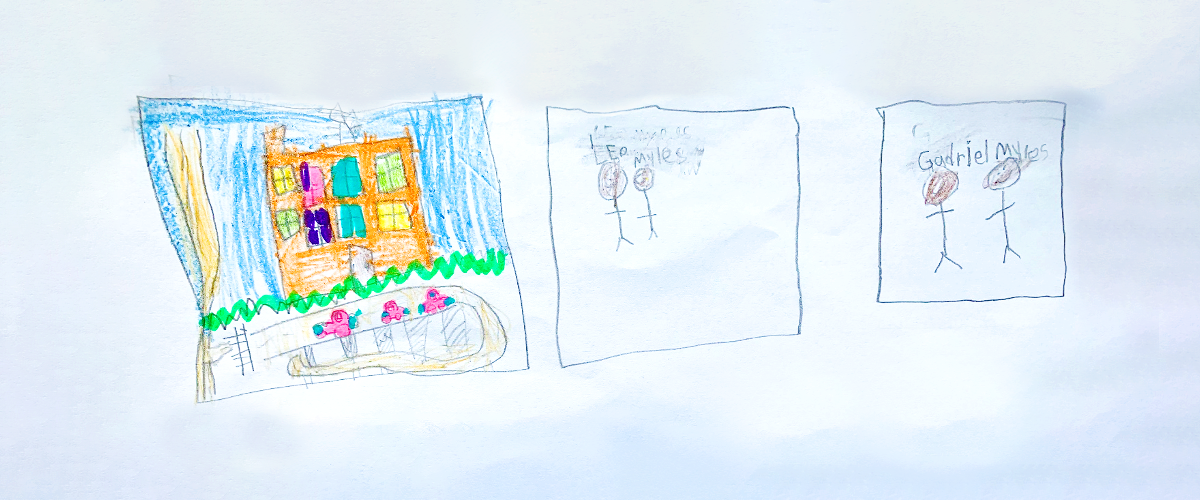 A 5-year-old described in writing, drawing, and speaking about going back to school this fall: "This is the street, the sky and grass, the roads and cars (you can't park in the car line). This is me and Leo in the next box. And in the next box, me and Gabriel. I like seeing my friends." When asked what they do at school, he said, "We play."
Is your classroom full of children's artwork? To feature it in Young Children, see the link at the bottom of the page or email editorial@naeyc.org for details. We'd love to hear from you!
Send your thoughts on this issue, and on topics you'd like to read about in future issues of Young Children, to editorial@naeyc.org.
Would you like to see your children's artwork featured in these pages? For guidance on submitting print-quality photos (as well as details on permissions and licensing), see NAEYC.org/resources/pubs/authors-photographers/photos.
Annie Moses
Annie Moses is the editor in chief of Young Children and Teaching Young Children at NAEYC.