The Reading Chair: March 2020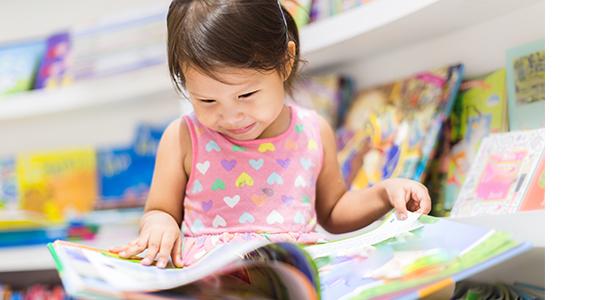 You are here
Isabel Baker Miriam Baker Schiffer
Choo Choo / Chuu chuu

By Petr Horáček. 2008. Somerville, MA: Candlewick Press. 14 pp. Ages birth to 3.
Quality train books are in short supply, and Horáček delivers a standout train book with this bilingual Spanish–English board book featuring Horáček's signature vibrant illustrations. In this simple, upbeat story, a group of children go on a train ride through the woods, over a bridge, into a tunnel, and back into the sunshine, ultimately arriving at the beach. A different train sound is featured on each page, and die-cuts give the book a 3D feel that puts readers into the action.
---
Good Morning - Buenos Días

By Meritxell Martí. Illus. by Xavier Salomó. 2018. Layton, UT: Gibbs Smith. 16 pp. Ages birth to 3.
This Spanish–English bilingual board book features family and neighbors who are eager to start their day. There's the rooster crowing, the father giving himself a morning shave, an alarm clock ringing, the baker baking bread, and more examples of how members of the community get going first thing in the morning. Built into the sturdy board book pages are made-to-last sliding tabs that animate the many movements of the morning, such as a baby popping up over his crib rail. The illustrations are warm, and they capture the charm of a tight-knit community living in a cheerful seaside town.
---
Leyla

By Galia Bernstein. 2019. New York: Abrams. 32 pp. Ages 3 to 6.
Leyla is a baboon, and she lives with her very large extended family, including her mother, father, nine aunts, and 23 cousins. They kiss and hug and groom her, and there is never a moment of peace and quiet. Leyla needs a break! Author and illustrator Galia Bernstein captures the intensity—both good and bad—of being in a big, loving family using inspiration she found at the Prospect Park Zoo in Brooklyn, watching the baboons crowd around one of their young. So how does Leyla get a break? She runs far away until there is no one around, except for a small lizard whose favorite pastime is closing his eyes and doing nothing at all. While it's a welcome antidote to Leyla's stress, she soon finds herself missing her family and is ready to return home.
With tightly woven text and superb illustrations full of winning facial expressions, Bernstein captures Leyla's push-and-pull feelings. Young readers can identify with Leyla, her reaction to the excessive hugs and kisses, her desire for independence, and her need for unconditional love. This is an expertly crafted story and a great read aloud.
---
Draw Here

By Hervé Tullet. 2019. San Francisco: Chronicle Books. 140 pp. Ages 3 to 8.
This new addition to Hervé Tullet's popular movement-filled dot books is an excellent activity book. Here, the sense of movement will emerge from the children as they follow Tullet's instructions for how to interact with the dots. Instructions include "draw one continuous line" and "connect two dots of the same color." Tullet mixes it up by, for example, instructing readers to scribble on the dots and then, one page later, to scribble around them. Children will practice fine-motor skills, following directions, and making different elements of drawing (lines, scribbles, loops). Through guided play with the dots, they'll experience how art offers endless possibilities for the imagination. As a practical matter, we imagine teachers will want to provide a book for each child or take the book apart and give a cluster of pages (there are about 70 total) to each child.
---
My Papi Has a Motorcycle

By Isabel Quintero. Illus. by Zeke Peña. 2019. New York: Kokila. 40 pp. Ages 4 to 8.
Inspired by the author's childhood in Corona, California, this story takes us to the streets of an immigrant town in transition. At the center of the story is the relationship between a little girl, Daisy, and her papi. He works hard, but he always makes time to take her on a motorcycle ride through town, greeting friends, neighbors, and extended family, and he shares the town's history along the way. Daisy can see her town changing: there are businesses closing and new homes being built where there were once citrus groves. But, amidst all the change, there is still so much that she and her family love. Peña's original artwork is packed with feeling.
---
Forever Favorites

In each issue we feature a classic book to (re)introduce teachers to old favorites.
Katy No-Pocket

By Emmy Payne. Illus. by H. A. Rey. 1973 (1944). New York: HMH Books for Young Readers. 32 pp. Ages 3 to 8.
Katy No-Pocket may be 75 years old, but it continues to be a relevant, contemporary book. Katy is a mother kangaroo without a pocket. How will she carry and care for her baby Freddy? The story is a wonderful way to show children that parents have special needs, too. To solve her problem, Katy asks all the other animal mothers how they carry their babies, but none of their methods seem quite right for a kangaroo. Unrelenting in her search for a solution, Katy heads to the city. There, she spots a carpenter wearing an apron with a multitude of pockets, which he kindly gives to her. With her own unique fix in hand, she can carry not only her own Freddy, but many other delighted young animals, too. The pictures, which may look familiar, are by the illustrator of Curious George. This is children's literature at its best!
Isabel Baker
Isabel Baker, MAT, MLS, is the founding director of The Book Vine for Children, a national company dedicated to getting good books into the hands of preschool children and their teachers. Isabel has worked as a children's librarian and is currently a presenter on early literacy and book selection.
Miriam Baker Schiffer
Miriam Baker Schiffer, MFA, is a writer in Brooklyn, New York. She consults on book selections for The Book Vine, in McHenry, Illinois. Miriam's children's book, Stella Brings the Family, was published by Chronicle Books in 2015.