De Nuestra Presidenta. Ayudemos a los niños a oír su canción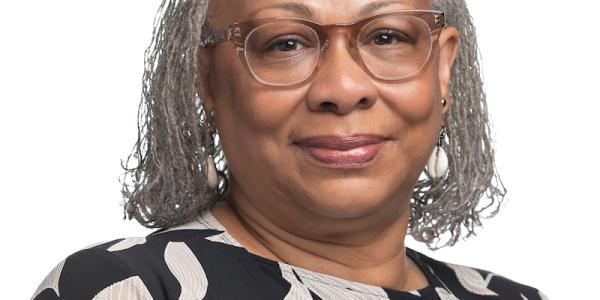 You are here
Ann McClain Terrell
En cierta comunidad de África, cuando una mujer se da cuenta que está embarazada, sale al desierto con unas pocas amigas y juntas oran y meditan hasta que escuchan la canción del niño. Reconocen que cada alma tiene su propia vibración que expresa su sabor y propósito singular. Cuando las mujeres sintonicen con la canción, la cantan en voz alta. Luego vuelven a la aldea y la enseñan a todos los demás. Cuando el niño nace, la comunidad se reúne y le canta la canción a él o ella.
¿Cómo ayudamos a los niños a oír su propia canción? ¿Cómo deberían los maestros de bebés y niños pequeños escuchar, observar y estar atentos a las "canciones" de los niños menores de 3 años?
En toda la nación, entre muchos programas para niños pequeños, los maestros y administradores colaboran para apoyar el desarrollo social y emocional de nuestros estudiantes más pequeños. ¿Cómo podemos implementar mejor las prácticas que fomentan las relaciones y crear ambientes que apoyan el crecimiento social-emocional positivo?
El año pasado, un video se volvió viral en que un padre e hijo afroamericanos participaban en una conversación del tipo "llamada y respuesta". A mí me gustó muchísimo observar esta interacción entre papá e hijo. Sin embargo, este tipo de interacción no me pareció nada nuevo. Lo he visto repetido en familias afroamericanas desde siempre. Me gusta utilizar el término llamada y respuesta para describirlo. Se puede definir como una forma de interacción entre alguien que habla y una o varias personas que escuchan, en que cada expresión del que habla provoca una reacción, con o sin palabras, del o de los que escuchan. Tengo memorias claras de mis familiares ancianos, especialmente mi abuela paterna, que les hablaban a niños pequeños y respondían a su charloteo como si entendieran el significado del balbuceo. La tonalidad de la voz estaba presente en estas conversaciones, así como la expresión facial y los gestos.
Más tarde, cuando el niño entra a la educación, los aldeanos se reúnen y cantan la canción del niño.
En Day to Day the Relationship Way, una publicación reciente de NAEYC, los autores Wittmer y Honig escriben que "los bebés y niños pequeños existen dentro de una red de relaciones con familiares, maestros, compañeros y comunidades. . . . Los niños sacan provecho cuando respetamos el poder de la red de relaciones de un niño y reconocemos la importancia de trabajar dentro de estas relaciones entretejidas". Mi hija Jenise volvió a su empleo cuando mi nieta, Journee, tenía tres meses. Inscribió a su hijita en Malaika Early Learning Center, en el salón de bebés y niños menores de 3 años. Al reflexionar sobre su experiencia, Jenise me contó que se dio cuenta que le hacía frente el mismo temor que la mayoría de los padres experimentan cuando matriculan a su bebé en un servicio de cuidado: el de dejar a su hijo en el cuidado de personas desconocidas. Esto era importante en la experiencia de Jenise porque cuando su hijo mayor alcanzó la misma edad y ella volvió al trabajo, lo inscribió en el centro del que yo era la directora. La reflexión de Jenise era que su experiencia ya fue la de la mayoría de los padres porque "mi madre no era la directora del centro".
Una de las cuidadoras de Journee en el Centro Malaika era una señora maravillosa a la que los niños llamaban Señorita Minnie. Señorita Minnie hablaba con Journee, le cantaba, jugaba con ella y la mecía, de modo que entabló una relación maravillosa con mi nieta. Cuando se pidió a Jenise que describiera esta relación, dijo entre lágrimas que no pensaba que nadie, aparte de nuestros familiares, pudiera "querer" a Journee como Señorita Minnie la quería; dijo que Journee no solo era cuidada, sino que recibía un cuidado muy tierno.
Aunque nuestros niños no crecen en una aldea africana que les cante su canción en los momentos cruciales de transición en sus vidas, en fin esperamos que los niños tengan la oportunidad de recibir un tierno cuidado en un programa para niños pequeños donde su canción sea reconocida y cantada, y ellos, a su vez, reconozcan su canción y la canten bien.
Les deseo todo lo mejor, Ann
---
NOTA: La citación de prosa se adapta de They're Singing Your Song de Alan Cohen. Se publicó en The Universe Talks el 15 de agosto de 2018.
Ann McClain Terrell
Current president of NAEYC (National Association for the Education of Young Children)